Your vacation starts now.
Your "Up North" vacation awaits! Big Powderhorn Mountain offers a wide range of  lodging choices, from condos to ski-in, out-chalets.
Winter is Coming | Make your winter vacation reservation now for just 50% down!
Book your favorite chalet at BPMR Lodging now. 
When booking your winter vacation with us, your deposit is just 50 percent down of the cost of your reservation. The remaining 50 percent of the deposit will be charged upon arrival.
Cancellations made within the 30 days of reservation are subject to forfeit the deposit. Cancellations made more than 30 days in advance will be charged a $50 cancellation fee.
BOOK NOW!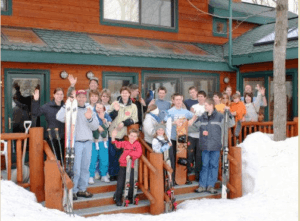 Big Powderhorn Mountain Resort Guest Perks
Please note that the facilities are individually owned and operated and are not owned by Big Powderhorn Mountain Resort. They vary in amenities as well as policies on deposits, refunds, and gratuities. Be sure to check the details when making reservations.
All Big Powderhorn Mountain Resort Lodging, LLC accommodations have a 2 night minimum stay. Some accommodations have a 3 night minimum stay restriction in some seasons.  
Splitting a weekend is not allowed. Your check in day or your check-out day cannot be a Saturday.
Check in time is 4:00 pm and check out time is 11:00 am.
Big Powderhorn Mountain Resort Lodging, LLC offers only the finest lodging at the most affordable rates coupled with the best lift and lodging values. This is your best choice for a true one stop lodging and skiing vacation. ALL of our chalets have individual FLAT RATES during the Winter Season. Rates vary by the chalet's location, sleeping capacity, and amenities offered. Some units offer additional amenities including air-conditioning.
Note: Non-winter season rates vary by unit. Please enter your vacation dates for accurate off-season rates.